High speed photography is a art form that sometimes produces spell-bounding results. Today one of my facebook friends had shared a link which showed the work that the creative agency Dentsu London did for an advertisement  for Canon's Pixma printer. And I just couldn't stop myself from sharing it on Technoticles.
Check out the complete flikr photoset here  – http://www.flickr.com/photos/13084997@N03/sets/72157608258335431/
The creator, Linden Glendhill, wrote that the shapes have been made out of water based paints and sound come from a speaker. The motion is captured with mic triggered flash units controlled by StopShot.
Some relevant links:
Some photographs of the set up – http://www.npr.org/blogs/pictureshow/2011/04/13/135377949/how-sound-can-create-sculpture
How to do high speed photography at home – http://www.diyphotography.net/diy_high_speed_photography_at_home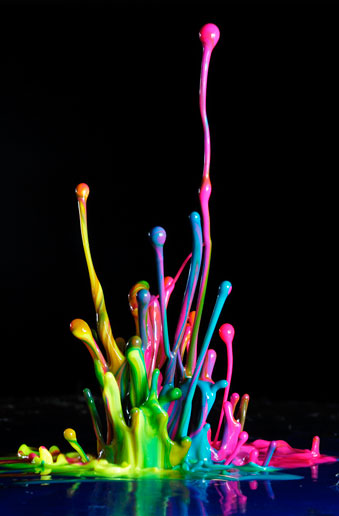 Some other beautiful high speed photography results – http://www.toxel.com/inspiration/2009/04/08/beautiful-and-creative-high-speed-photography/